Beauty & Self
Books & Music
Career
Computers
Education
Family
Food & Wine
Health & Fitness
Hobbies & Crafts
Home & Garden
Money
News & Politics
Relationships
Religion & Spirituality
Sports
Travel & Culture
TV & Movies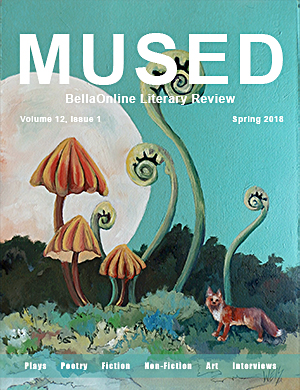 It can seem sometimes as if our world is whirling faster than we can keep up with. It can become overwhelming. Exhausting.

A balm which rejuvenates is to explore the creative efforts of individuals around us. To begin, turn off the noise and clatter of the world at large. Take a deep breath and instead focus on connecting with one fellow human being who presents their jewel of a thought to you. Examine it mindfully. Consider its meaning. Soak in the moment with this one human. Then connect with another. And another.

Enjoy the Mused Spring Equinox 2018 Issue



University of Central Florida to Run Arecibo Site
Florida - Georgiana Kurtz, Editor

A consortium led by the University of Central Florida has been chosen by the National Science Foundation to run the Arecibo Observatory in Puerto Rico. The site contains the second-largest radio telescope in the world and provides educational and research opportunities for the global community.




Medium Cool Film Review
Drama Movies - Angela K. Peterson, Editor

Haskell Wexler was voted one of the most influential cinematographers in American film. His 1969 directorial debut, "Medium Cool", is a prescient exploration of politics, violence, and the deleterious effects of a post-literate culture on democracy.




Passion Week - Good Friday
Christian Living - Lynne Chapman, Editor

After Jesus was taken into custody, his trial consisted of six different hearings.




Some Highly Recommended Ornamental Peppers
Landscaping - Connie Krochmal, Editor

Of the many kinds of ornamental pepper varieties that are available, the following are highly recommended.




Book Shelves, I need to organize tatting books
Tatting - Georgia Seitz, Editor

Tips on how to organize your tatting books library.




Flight back to Bangalore
Romantic Getaways - Marianne de Nazareth, Editor

Taking a long flight back home can be both exhausting or fun. Upto you to take your pick and hope all connections work.


| Google+ |
E D I T O R R E C O M M E N D E D
Pinnacle Car Care


The Creme De La Creme of Ultimate Car Care is In the House! Using Pinnacle´s product line is like a visit to the salon and the results--magnifique!
Paradise in Plain Sight


Paradise in Plain Sight: Lessons from a Zen Garden by Zen Priest Karen Maezen Miller, is both memoir and Zen guide. Maezen Miller shares experiences repairing and tending a historical Japanese garden in her own backyard, guiding the reader towards direct insight. It is beautifully written, honest, and relevant to the modern seeker of any faith.
Giada´s Kitchen


In this book each recipe is a burst of taste, colors and combination of flavors; the instructions are really easy to follow for anyone, and the final result of virtually every dish is presented in a beautiful arrangement of photographs.