Beauty & Self
Books & Music
Career
Computers
Education
Family
Food & Wine
Health & Fitness
Hobbies & Crafts
Home & Garden
Money
News & Politics
Relationships
Religion & Spirituality
Sports
Travel & Culture
TV & Movies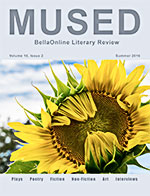 For many people, summertime is the perfect time to explore creativity. Plein air artists bring easels to gardens and beaches, showcasing nature's colors in oils, acrylics, and watercolors. Photographers ferret out a million sights to immortalize. Poets and writers stretch languidly beneath a shady oak tree, listening to the gentle buzz of insects, and constructing entire worlds out of the ether.

Enjoy the creativity of our community of artists - and then explore your own! We'd love to see your works for upcoming issues!

Summer Solstice 2016 issue of Mused

Organic Fragrance - A Scent Worth Trying?
Fragrance - Juliette Samuel, Editor

It only makes sense that if you want to eat organic and wear natural fibers, your scents should be organic as well. Class is now in session in the world of organic perfumery.




5 Tips for Ethnic Skin Care at The Beach
Ethnic Beauty - Juliette Samuel, Editor

Beach bound any time soon? As an ethnic beauty, you'll want to take precautions when enjoying the sun. Learn more as you read 5 tips to consider on your next visit to the beach.




Zootopia Movie Review
Comedy Movies - Ricardo Castano IV, Editor

This world is animals. One little bunny, Judy Hopps, wants to be a cop in the big city of Zootopia. When she finally makes it, she discovers that life in the big city isn't all it's cracked up to be, and that even the littlest chance to do good can change the world.




7 Best Things To Do In Freeport, Bahamas
Cruises - Nancy Schretter, Editor

Located on Grand Bahama Island, Freeport is a popular cruise port of call. Grand Bahama Island features beautiful white sand beaches, three national parks, a wide variety of water sports and much more. If your next cruise is heading to Freeport, here are seven great things to do there.




Tips For Taking A Volunteer Vacation
Senior Travel - Hazel M. Freeman, Editor

Thinking about taking a volunteer vacation? Before you sign up and put your money on the table read over these ten tips to help you choose the right volunteer vacation opportunity for you.




Fried Tilapia Sandwich Recipe
Sandwiches - Connie Mistler Davidson, Editor

I used to love fish sandwiches from fast food shops. Recently, I've found them to be unsatisfactory. I had a great reason to make my own fish sandwiches. They were so much tastier than the fast food sandwiches! Try my recipe and see for yourself.


| Google+ |
E D I T O R R E C O M M E N D E D
Grave Mercy


Grave Mercy by Robin LaFevers is set in medieval Brittany and features Ismae, a seventeen year-old peasant girl turned assassin who must pose as the mistress of principled knight Duvall in a secretive land of supernatural visions and imminent invasion by the hated French.
From Pain to Parenthood


Follow one woman´s incredible and heartfelt journey from the pain of miscarriages to the joy of becoming a parent through adoption. Filled with honest, raw emotions and helpful coping tips, "From Pain to Parenthood" promises to touch your life with a real story that shows the power of the human spirit and the beauty of a mother´s love.